Wine For a Cause 2016 Donation to Cook Chidrens Medical Center's Hematology/Oncology research projects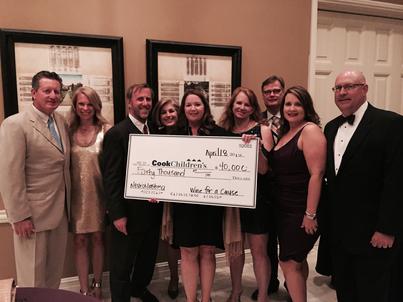 Wine For a Cause 2015 Donation to Cook Chidrens Medical Center's Hematology/Oncology research projects
Wine For a cause 2014 Donation to Cook Chidrens Medical Center's Hematology/Oncology research projects
Wine For A Cause's 2013 $50,000 donation to Cook Chidrens Medical Center's MIBG room. Thank you to everyone that helped make this possible!
Wine for a Cause
is a non-profit 501c3 organization dedicated to funding pediatric cancer research. Our mission is to assist the Hematology/Oncology Center at Cook Children's Medical Center in Fort Worth, Texas to become one of the leading pediatric cancer research centers in the world, and the first of their kind in the south central United States.

Wine for a Cause sponsors events that raise money for cancer research protocols and late stage clinical trials. These events also help fund the materials and the physical space needed to provide this specialized care at Cook Children's Medical Center. To date our evets have raised over $250,000 for this important cancer research.


Members of our Board of Directors and Advisory Board cover all administrative costs by volunteering their time and giving personal donations to Wine for a Cause. All donations go to support pediatric cancer research and are tax deductible to the full extent of the law.